Duke of Dishonor
Lords of Scandal 11
A hero in disguise…
When a mystery man saves her from bandits, Emily Carrington cannot deny that she's intrigued. Perhaps infatuated is the better word. But she's got no time for such fancies. She has to marry quickly before her family's secrets are exposed and she is ruined. The problem is that no matter how hard she attempts to pay attention to her parade of suitors, one set of glittering dark eyes haunts both her waking and sleeping hours. Who is Emily's hero and will she ever get to see him again?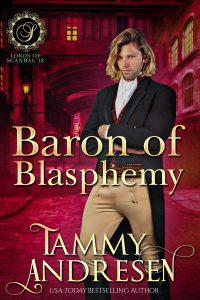 Baron of Blashphemy
Lords of Scandal 12
An arranged marriage gone wrong.
What does an impoverished baron with a reputation for trouble do when he needs an infusion of coin? He marries. Quickly. The problem? His new wife isn't entirely certain she likes anything about him. And it turns out, Abigail Carrington might be the only person in England with a will stronger than his own. If he can't strong arm, cajole, or reason her into his bed to consummate their marriage, he's only got one option left. Seduction…
Subscribe to my Newsletter!